Samenwerking met het Voedingscentrum
Wouter Smits | Oostzaan. July 25, 2019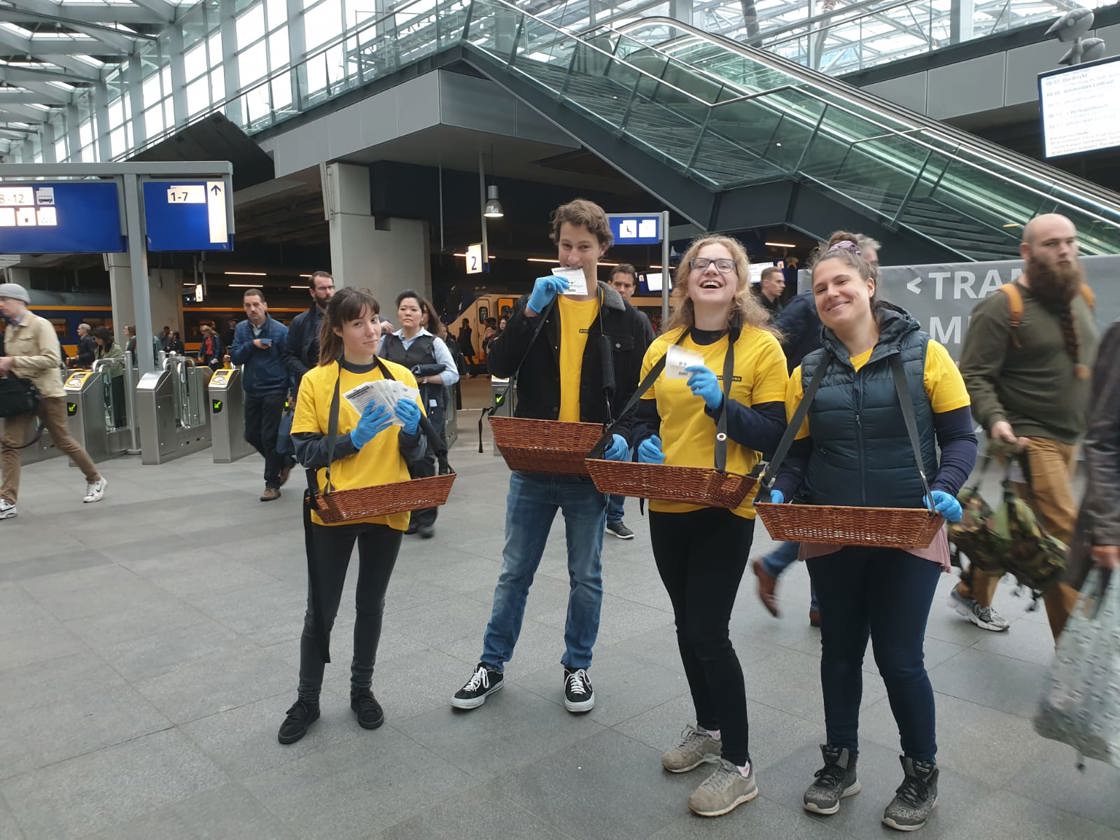 Via het Voedingscentrum kregen we de ontzettend leuke opdracht om Nederlanders bewust te maken van de grote hoeveelheden voedsel die worden verspild in de vakantieperiode. Hoe kunnen we dat beter doen dan met een flyer van ons eetbaar papier? Dat is tenslotte helemaal verspillingsvrij, want ouwel is volledig biologisch afbreekbaar.
Verspillingsvrij op vakantie
Een pak yoghurt, een komkommer of een halfje brood dat over blijft… Als je terugkomt van vakantie kun je het niet meer eten, dus gooi je het voor vertrek weg. Het lijkt misschien niet veel, maar als iedereen dit doet worden er al snel tonnen aan voedsel verspild. Als alle Nederlanders verspillingsvrij op vakantie zouden gaan wordt er dus een enorme hoeveelheid aan goed voedsel gered. Corné van Dooren, expert duurzaam eten bij het Voedingscentrum, benadrukt dat alle beetjes helpen. "Bekommer je ook om die ene komkommer, want als elke Nederlandse vakantieganger dat doet, worden er bijna 12 miljoen komkommers gered.". Het lijkt misschien klein, maar samen kun je een groot verschil maken.
Tips om verspillingsvrij te vertrekken
Check ruim voordat je vertrekt de koelkast, voorraadkast en fruitschaal.
Bedenk wanneer je welke dingen opeet, en wat je eventueel kunt bewaren.
Gebruik waar mogelijk de vriezer voor eten dat over blijft.
Met restjes kun je voor vertrek vaak nog een prima maaltijd maken. Denk bijvoorbeeld aan soep, een salade, omelet of roerbakmaaltijd.
Blijft er toch nog iets over? Geef het aan familie, vrienden of je buren.
Flyers van eetbaar papier
De eetpapier flyers zijn op verschillende locaties uitgedeeld, onder andere op het station van Den Haag. Het doel is om zoveel mogelijk mensen bewust te maken van de voedselverspilling in de vakantieperiode. Samen met het Voedingscentrum hopen we dat iedereen dit jaar verspillingsvrij op vakantie gaat!
Bron: www.voedingscentrum.nl